Leading Accountants in Collingwood
Get reliable business and tax accounting services in Collingwood that you can trust.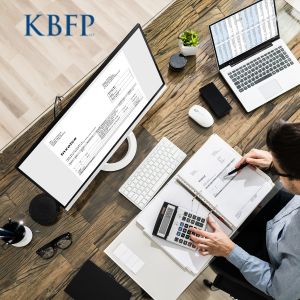 At KBFP, we're more than just your local CPA in Collingwood, we're a trusted and experienced accounting firm, partnering in the success of your business. From financial planning to personal accounting services, our tax accountants will guide through existing financial challenges and help you set en-route to a successful future.
With the reliable KBFP team of chartered accountants in Collingwood, you can streamline the accounting process and invest more in the future of your business.
CPA Services at Our Collingwood Accounting Firm
From bookkeeping and payment reconciliation to forecasting, invoicing, and reporting, choosing our accountants in Collingwood means you get to save time on your tedious and paper heavy accounting processes to ensure accuracy and data integrity. Our CPA team leverages automation, industry experience, organization, and diligence to support the seemingly smallest tasks while also seeing the big picture to create custom business plans to help you reach your goals.
Audits & Reviews: Ensuring Financial Integrity and Transparency
Our tax accountants and auditors in Collingwood help businesses understand how money moves to and from their business, ensuring financial integrity, transparency, and compliances in all business processes. Our comprehensive audit and review services help clients better identify areas for improvement and make more informed decisions.
Bookkeeping Services: Efficiently Managing Your Financial Records
Bookkeeping is a time-consuming and labour-intensive accounting process. When you choose KBFP, our team of leading accountants in Collingwood use leading cloud-based accounting software to facilitate ledger maintenance, to enable payable and receivable management, financial reporting, payroll administration, and inventory management. Our bookkeeping services highlight income, assets, expenses, liabilities, and other financial insights to support data-driven decisions, scalability, and flexibility.
Corporate Tax Planning: Strategic and Smart Future-Proof Business Planning
Minimizing tax liabilities with smart and responsible corporate tax planning is crucial for long-term endurance and success. Corporate tax accountants in Collingwood small and medium businesses have a clear path forward, ensuring profitability and sustainable growth. Our tax accountants will also help with estates and trusts, personal taxes for corporate clients, as well as preparing and managing corporate tax returns and forms.
Private Accounting Services: Comprehensive Financial Solutions
Private accounting plays a critical role in managing the financial affairs of individuals and families in Collingwood, Ontario. Our team of skilled private accountants is dedicated to providing confidential and comprehensive financial solutions tailored to your unique needs and objectives. At KBFP, our accounting firm's private services include personal financial and cash flow management, budgeting services, tax planning and compliance, investment monitoring, estate planning, risk management, and financial coaching.
Virtual CFO Services: Expert Financial Guidance for Your Business
At KBFP, our leading accountants operate as partners in your business invested in the future, scalability, and the success of your business. When you want the high-level insights, strategy, and guidance offered by Chief FInancial Officer for your business but don't have the resources to a bring a full-time CDO on board, our Virtual CFO and accounting services in Collingwood provide your business with access to experienced financial professionals who can serve as their trusted financial advisors and partners. Our virtual CFO services include financial strategizing, reporting, forecasting, cash flow management, and high-level decision making.
Embrace the Innovation & Knowledge of a Trusted CPA in Collingwood
Our accountants in Collingwood go beyond just crunching numbers. We offer comprehensive services including from planning and analysis to insights and analysis. Realize the benefits of working with our accounting firm in just 3 easy steps.
Schedule a Preliminary Call: Our accountants will take the time to get to know you, your company, and your goals. During this stage we'll understand your current practices and gauge which of our services will assist you.
Create a Plan: Once we understand the needs of your business, our team of accountants will start integrating our practices with your business, from cloud-based accounting software to assigned accounting reps, including tax accountants and bookkeepers to get your organization on track.
Reap the Benefits: As your time with the KBFP accounting firm in Collingwood continues, you will watch your bottom line grow and scale according to tailored projections supported by our team of accountants near you.
Turn Your Vision into a Reality