Get Started
Cloud Accounting
Simply put – Cloud Accounting is good for your business and good for your bottom line. Whatever the size of your business, Cloud Accounting will enable you to operate smarter, faster, and more efficiently. Under the professional guidance of KBFP Accounting, working in the cloud saves time and money – you'll have a much better overview of your operation and your finances – instantly.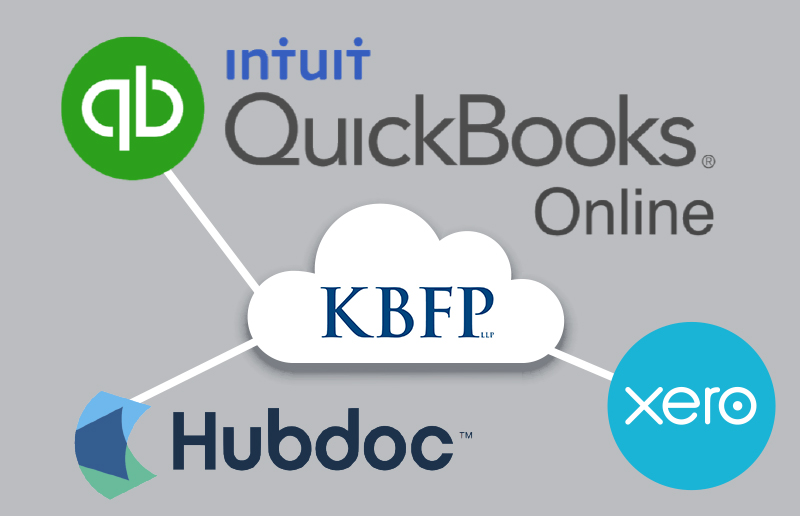 As it is, business accounting software is time consuming and burdensome. Cloud Accounting allows you to easily convert and integrate your existing systems with leading edge APPS and create a "virtual accounting" platform. With KBFP, everything is under one roof – we provide a complete accounting system to maximize your business efficiency and your entire finance team.
With the right combination of APPS, Cloud Accounting allows you to host all your data on remote servers. Everything is paperless, and everything is protected with the highest level of security. At KBFP, we'll recommend the APPS that best match your specific business and accounting needs.
TSheets
TSheets provides easy time tracking and a streamlined payroll system. The APP will sync with QuickBooks applications, saving you valuable time and money on your current payroll activities.
AutoEntry
AutoEntry completely automates data entry – invoices, receipts, statements, and expenses. Easily integrated into your accounting system, AutoEntry improves productivity and cuts your costs.
PaymentEvolution
As a leading edge online payroll platform, PaymentEvolution pays your staff accurately and on-time. With nothing to install, you can access the platform at any time and from any web browser.
Hubdoc
Hubdoc allows you to automatically import financial documents and seamlessly export them into data that you can access and use. Hubdoc will sync and integrate with your accounting system.
Rotessa
Rotessa sets up automated payment scheduling, with client payments withdrawn automatically from their bank account. Invoices get paid on time (with the option of pre-authorized payments).
Plooto
Plooto manages your payables and receivables quickly and efficiently. It's the most cost-effective way to pay your vendors and collect from your clients (no need to share personal financial info).
ReceiptBank
ReceiptBank automates the collection and processing of receipts and invoices. The APP allows for instant scanning - just take a photo of the receipt/invoice and upload to your accounting system.
Xero
Xero is a comprehensive online accounting platform that's both smart and simple. You get a "real-time" view of financials at anytime, and from anywhere. Log in with PC, Mac, tablet or cell phone.
Quick Books Online
QBO automatically downloads, categorizes, and reconciles your financial transactions. QBO will track expenses, record everything for tax time, and process your customized customer invoices.
With KBFP Cloud Accounting, you'll move away from old systems that are inefficient and time consuming. With the most up-to-date APPS, you'll move to more efficient accounting processes and much better time management. The upfront investment makes good business sense and actually saves you money long term. With Cloud Accounting, everything goes paperless – all secure – with fewer errors – and with more accuracy. Best of all APPS never need updating.
At KBFP, our in-house professionals can take you to the next level of Cloud Accounting. We have decades of experience and expertise, and today, we're leading the way with virtual accounting.