How Accountants Support the Growth of Your Bottom Line
Published on August 31, 2023
The purpose of any business goes beyond providing a high-quality product or service to customers but to grow beyond and scale, which requires a focus on profitability and planning. One of the primary metrics of success, year after year, is the bottom line, i.e., how much profit was made that year after all other business expenses like salaries and overhead costs are taken out of the equation. Growing your business's bottom line requires careful financial management, strategic planning, and smart practices. Experienced accountants in Bradford offering high-level CFO services can help you take your business to the next level. At KBFP, our team of expert business accountants is committed to helping you do more than just crunch numbers. Our team of chartered professional accounts is here to help you realize and actualize your business potential.
Explore how accountants support the growth of your bottom line and why their expertise is invaluable.
Strategic Financial Planning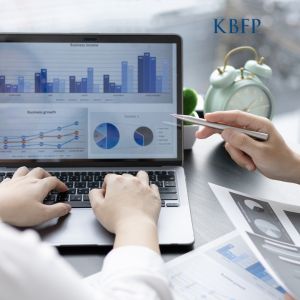 Accountants are skilled professionals who can help you create and execute robust financial plans that act as a roadmap for your business. Analyzing your past performance, current financial situation, and future goals, the leading team of accountants in Bradford at KBFP will help you identify areas of improvement and provide insights that enable you to maximize your profitability. The KBFP team is equipped with experienced business accountants who will help you pave an actionable plan that is aligned with your goals and also fiscally responsible, from goal alignment and risk management to resource allocation and capital management.
Smart Budgeting and Forecasting
Effective budgeting and forecasting are essential for sustainable business growth. CFO services support excelling businesses by creating accurate budgets that allocate resources efficiently and minimize waste. By forecasting future financial trends based on industry changes and economic fluctuations, a trusted CPA in Bradford can help you anticipate challenges and opportunities, allowing you to adjust your strategies accordingly. This proactive approach safeguards your bottom line and positions your business for long-term success.
Tax Planning and Compliance
Corporate or business taxes are often challenging for the average individual and can be stressful in many cases. With advanced tax planning services, our team of accountants in Bradford and KBFP's other locations can help business owners looking to increase their bottom line with thoughtful tax planning that minimizes tax liabilities and ensures you're not overpaying. Our tax accountants are incredibly familiar with the ever-changing legal tax laws and Canada Revenue Agency (CRA) regulations for businesses in Ontario and can help you manage them without costly penalties or disputes.
Financial Analysis for Informed Decisions
The most profitable business decisions are informed decisions based on your financial data and projections. An experienced CPA in Bradford provides in-depth financial analysis, offering actionable insights highlighting performance trends and exploring factors contributing to your financial health. With this guidance, you can identify which products or services are most profitable, pinpoint areas where costs can be trimmed, and make strategic adjustments to improve your bottom line.
Focus on Your Expertise & Save Time
Time is a business's most valuable resource; with the support of a team of established and experienced accountants overlooking the financial aspects of your business, from tax planning and budgeting, you can invest your time into building and scaling your business, from expanding your customer base to enhancing your product and service offerings, leaving the numbers to the experts at KBFP. We're more than your accountants; we're your trusted business partner.
Learn how we can help you grow your bottom line.